Return to ZIPFIP home page
---
ZIPFIP Description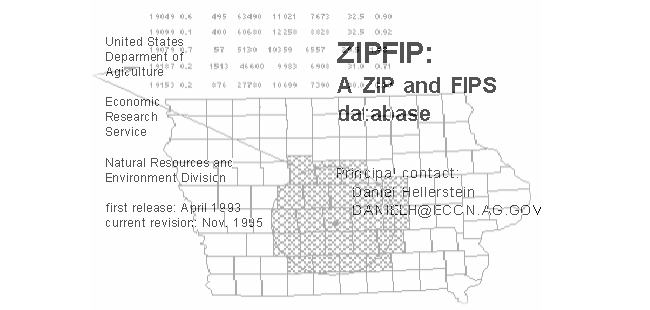 ---
Abstract
ZIPFIP is both a set of databases containing census and locational information organized by ZIP (ZIP code) and FIPS (county) levels, and a program by which these data sets may be accessed and manipulated. It has several useful features, including: editing and displaying data; defining spatial boundaries known as market areas; determining distances between any two sites in the lower 48 states; and aggregating observations. ZIPFIP can extract commonly used census information by county or ZIP code, and correct for missing values.
---
Introduction
Many economic models are driven by spatially disaggregated data. For example, travel cost models require information on both the origin and the destination of visitors to a recreational site. Another example would be grain markets, where a model estimating shipping costs would require detail on the locations of grain silos and marketing centers. To facilitate the construction of such models, the Economic Research Service (with assistance from the Forest Service), developed the ZIPFIP software package.
ZIPFIP can access and manipulate information by location. In particular, a key feature of ZIPFIP is its ability to create market area profiles. A market area is a geographic area whose boundaries are based on some measure of proximity, typical to some central location. For example, the market area illustrated in Figure I, "Counties within 75 miles of Des Moines, Iowa," is defined by a distance (75 miles) surrounding a central location (Des Moines). The profile of a market area is simply a table of information on each of the various "sub-regions" within the market area's boundaries. In the above example, the counties comprise the sub- regions. The market area profile can contain a wide variety of information, including latitude, longitude, place name, socio-economic information, climate data, and soil characteristics information.
---
Example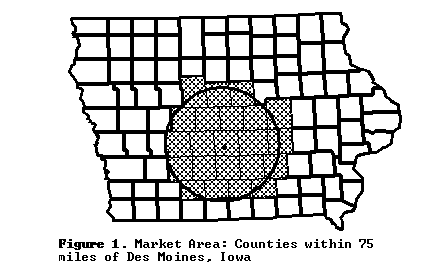 ---
This document outlines the capabilities of ZIPFIP. ZIPFIP users looking for technical details are referred to the ZIPFIP manual or to the on-line help included in the ZIPFIP program.
---
Advantages and Disadvantages of ZIPFIP
The ZIPFIP program and databases offer a simple, straightforward approach for using census and locational information. ZIPFIP has an easy-to-use, menu- driven look and feel -- plus plenty of available on-line help. ZIPFIP provides a selection of variables available from a variety of more complete databases, such as those available directly from the U.S. Census. In addition, the ZIPFIP program provides several data processing routines useful for manipulating this data. Because ZIPFIP relies on secondary sources for its data and cannot guarantee accuracy of each data point, its strengths lie in bulk processing of a limited amount of information for a quantity of zones (ZIP or FIPS). ZIPFIP would be less appropriate for detail on a single county or ZIP code.
One of this program's most attractive functions is its ability to create market area profiles. A market area might be defined as a list of zones (indicated by ZIP or FIPS codes) within a specified proximity of a selected center, or as a set of such lists, one for each of several sites. Thus, the user can tailor a market area profile to suit her/his research needs.
Among its disadvantages, ZIPFIP may not match the user friendliness of more sophisticated commercial products. Its interface is more old-fashioned and has less of a "windows" orientation. Also, due to cost constraints, ZIPFIP cannot guarantee the accuracy of each data point available in its databases. If the user requires less commonly used variables, s/he may not find them in ZIPFIP and will need to go directly to the secondary source. Once again, ZIPFIP would be less appropriate for detail on a single county or ZIP code.
ZIPFIP Databases
A variety of databases are available for use with ZIPFIP. They contain commonly used information gathered from secondary sources of data. ZIPFIP databases include:
The ZIPFIP Program
ZIPFIP provides a number of data processing features, divisible into several categories:
Market Area creation
Aggregation
Assignation
Data extraction
Database editing and distance computation.
Market areas

As described above, are a set of zones defined by the ZIPFIP user. These zones are typically defined by one to several ZIP or FIPS codes. ZIPFIP can produce market areas using several algorithms, including: all zones (ZIP or FIPS codes) within a user-specified minimum and maximum distance, and a user-specified minimum and maximum orientation, of some central location; and a list of ZIP codes (or FIPS codes), when given a list of FIPS codes (or state names).

Aggregation

Can be used to combine observations. An aggregation may combine observations on individuals into ZIP aggregates, or combine ZIP aggregates into a FIPS aggregate. For example, given a list of visitors to a park and the ZIP code of each visitor, ZIPFIP Aggregation can derive the total number of visitors from each ZIP code in the area that surrounds the park.

Assignation

Assigns an observation to a zone, where a zone may be any geographically defined location -- such as the geographic centroid of a ZIP code, or the boundaries of a county. The primary method used by ZIPFIP to assign observations to a zone is based on finding the zone centroid closest to the observed point. Although a simple approach, in many cases an observation might be closer to the centroid of a neighboring zone than to that of the zone in which it actually falls. Alternatively, seeking zone boundaries (e.g., for counties) around the observed point, ZIPFIP can determine the zone in which the observation point falls.

Data extraction

is used to find and display data. A primary use of ZIPFIP is to extract "census" information for all zones in a market area. ZIPFIP can be used both to create the market area (e.g., all counties within 75 miles of Des Moines), and to extract several variables for each of these counties (e.g., Population, Per Capita Income, and Percent With College Degree). ZIPFIP can also be used to find town names (or county names) when given ZIP codes (FIPS codes), or to find ZIP codes (or FIPS codes) when given town names (county names).

In addition to this, ZIPFIP incorporates heuristics for cases where data is missing. For example, missing values occur frequently in ZIP data, due to small samples and to "non-existent" ZIP codes. Corrective actions for ZIP data include:

(a) Using FIPS measures for missing values in the ZIP data; and

(b) Scaling the ZIP population variable to account for changes in ZIP code boundaries since the 1980 census.

Database editing

Is used to change values in the ZIPFIP database. With Distance computation, great circle distances or road distances between a set of user-selected points can be computed. Great circle distance distance and the average circuity between locations in different states.
ZIPFIP also has some very helpful functions for the general user. For example, the function PRINTSTATS will produce an output file of census information relevant to the zone(s) selected by the user. ZIPFIP makes available 42 variables alone from its ZIPFIP-1990 database, giving statistical information on, for example, population, income, voting preferences, and education. For several of these variables (such as population and per capita income), time series information from 1969 to 1990 is available at the county level. In addition, PRINTSTATS can deal with cancelled ZIP codes (a common problem given the transient nature of ZIP code boundaries) and missing values in a data set. Unlocated ZIP codes may be replaced with numerically close substitutes or left blank. Missing values, when ZIP- code information is requested, can be partially solved by using the value of the same variable from the appropriate FIPS code.
Another feature of ZIPFIP is TRIPDIST and COMPDIST. TRIPDIST computes the minimum possible mileage for a multiple (maximum of 5) stop trip by optimizing until it finds the route with the least mileage. COMPDIST, on the other hand, computes the distance of a trip in the exact order in which the sites are listed.
---
You can
---
Return to ZIPFIP home page